Name: Inu Summoning ( Head dog - Inuma )
Rank: D
Appearance: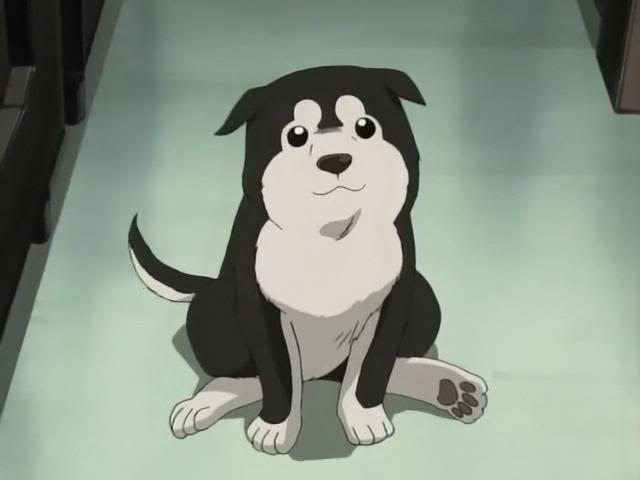 Inuma puppy is smallish medium height goes atleast up to Kikyos Knee. He is a black and white husky. When summoned has the blue konoha symbol headband around his neck, a doggy coat which is blue, and has a kunai or small knife in his mouth.
Contract Type: One of the scrolls on Kikyos left side has him within. Automatically summoned when a medium amount of blood pours out of Kikyo.
Species: Dog ( Husky )
Elemental Affinity: Nope
Special Abilities/Characteristics: Can spit small amount of acid into a foe, also over the wepon before stabbing it into foe.
Background: When Kikyo was an academy student she got lost because of her mean older sister. Kikyo was attacked by multiple animals. Kikyo almost died, then a brave dog came to the rescue and warted off all the animals by attacking. The dog soon made a contract for Kikyo to be automatically branded with the newborn puppy to come which was inuma.
Summons Jutsu:
Name: Kuchiyose no Jutsu - Summoning Technique
Rank:C
Type: Ninjutsu
Element:N/A
Description: A powerful jutsu, Ninpo Kuchiyose allows a ninja to summon animals, objects and the dead to fight on their behalf. There are many ways in which the ninja can sign a contract with a summon but it is usually done with the ninja signing a blood contract with the animal species. This allows the user to summon different size and skilled animals to fight along side them, or on their behalf



Village

: Konoha/Hyuuga Main Branch


Gender

:


Post Count

: 3


Join date

: 2010-03-13


Age

: 20


Location

: Hyuuga main branch, training my techniques and helping out younger members.


Dating

: Touch me and your 1st karate lesson is free. ( In a bad way xD)



How powerfull is the acid?
Hokage





Village

: Konoha


Gender

:


Post Count

: 135


Join date

: 2010-02-17


Age

: 23


Location

: In...A place...


Dating

: Smackledorfed




---
Permissions in this forum:
You
cannot
reply to topics in this forum